Holi Hai!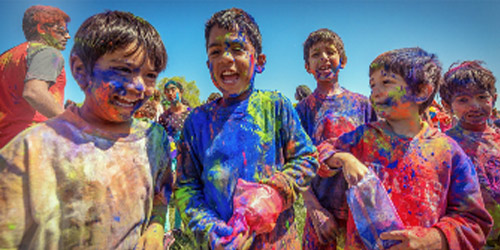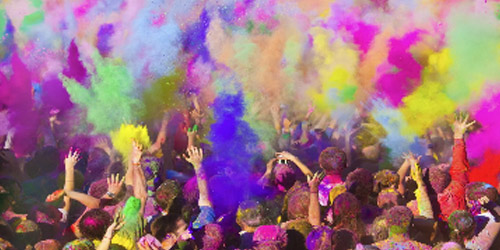 "Bring Colours to Your Life With a Festival"
The most boisterous of Hindu festivals, Holi waves goodbye to winter and welcomes in spring in a rainbow of colours. In India it's predominantly celebrated in the north of the country, and is quite rightly known as the Festival of Colours for the raucous events on Holi's final day, when children and adults take to the streets throwing colorful gulal (powder) over each other.

It falls on the full moon day in the month of Phalgun or March. People greet each other with colours and celebrate the occasion with much gaiety and excitement.
Vrindavan Holi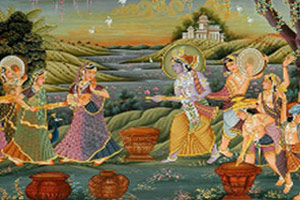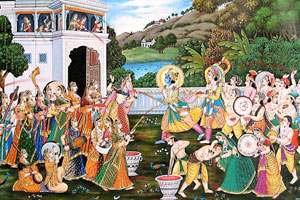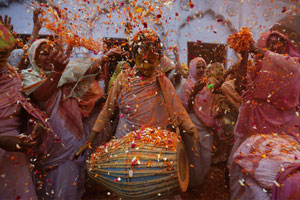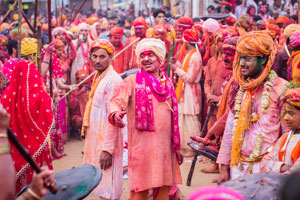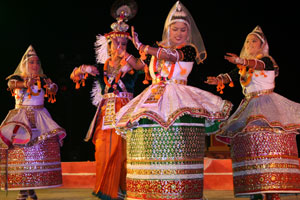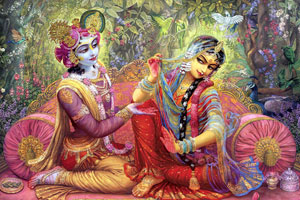 Although, Holi is celebrated all over India but Holi of Braj is famous for its intimate connection with the divine deities and their love. It is said that when Krishna was a young boy, he asked the reason for his dark colour while Radha was so fair. His mother Yashoda playfully suggested that he sould smear colour on Radh'a face too and change her complexion to any colour he wanted. Captivated by the idea, Krishna proceeded to do so and thus, introduced the play of colors on Holi. The trace of eroticism and romance pervades Holi as depicted in the love plays of Krishna and Radha. In Mathura, Vrindavan, Gokul and Barsna, Holi is a two-week long festival featuring play of colours, folks songs called 'Hori', folk dances such as Raas- Lila, staging the various aspects of Radha and Krishna's love.
Moods of Holi!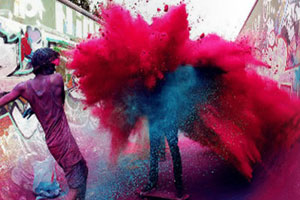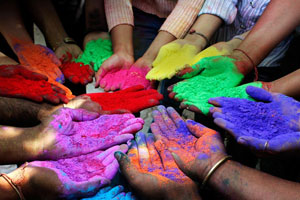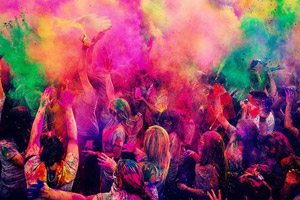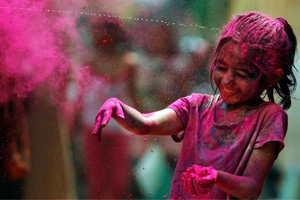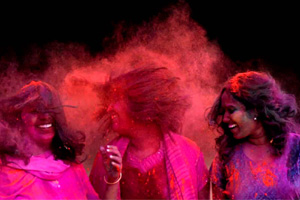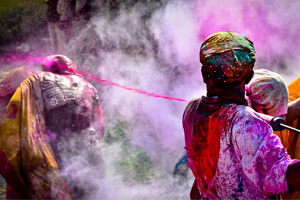 Now, we can convert your lazy holidays into an Energetic one…JUST FOR YOU!
Holi at Braj starts the first day of Amasavi in Phalgun month and then the festivities gain a thrust rom the day of Ekadashi, which is the 11th day of the waxing phase of the moon in Phalgun month. The official holidays in India for the Holi festival is declared for a day or two, but Braj gets a full nine days off to run the celebration. It goes like this…

• Barsana Ki Holi – Latthmaar Holi
• Nandgaonki Holi
• BankeyVihari&Keshav Dev ki Holi
• Chhadimaar Holi
• Holi at Dwarikadhesh temple – Celebrated for 02 days
• Holi at Mathura, Vrindavan& around
• Mail Holi – All over India
• Daujiki Holi
A Perfect Stay!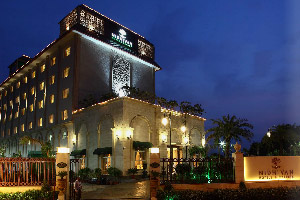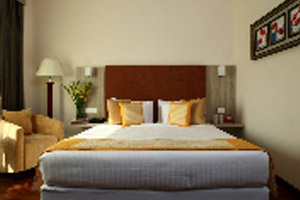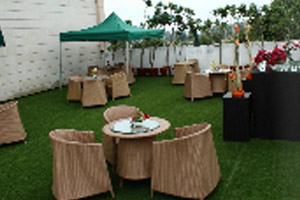 The flow of spirituality, that creates an experience of a lifetime, is the essence which makes the trip worthwhile.
Hotel "Nidhivan", literally means a forest of treasures. It is dedication to Vridavan, the land rich in lore and stories of Lord Krishna.
Program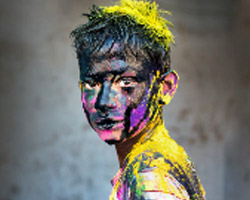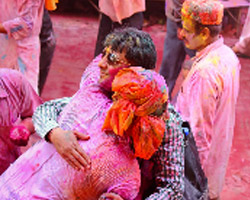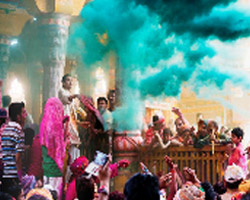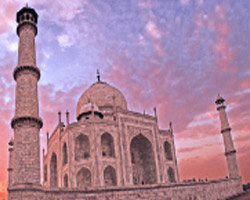 Day 01: Arrive Delhi, transfer to hotel, overnight stay at hotel.

Day 02: Morning at leisure, afternoon excursion of Delhi, overnight at hotel.

Day 03: Morning drive to Varindavan. Overnight at hotel Nidhivan.

Day 04: Barsanaki Holi, overnight at hotel hotel.

Day 05: Nandgaonki Holi, overnight stay at hotel.

Day 06: Enjoy Bankey Bihari &Keshav Dev kiholi.

Day 07: Morning visit Taj Mahal & Agra Fort. Overnight stay at hotel ITC Mughal.

Day 08: Morning drive to Delhi and later evening transfer to airport for onward flight.