Relaxation
Timeless India Journeys offers a variety of relaxing getaways for the traveller looking to rejuvenate and recuperate on their trip to India. Discover the soothing side of the sub continent, with lazy days spent on beautiful, palm lined beaches as the warm, blue waters of the Indian Ocean lap the shore. Find inner peace through the ancient art of Yoga, or let someone else find it for you as you're pampered at one of the country's many world-class luxury spa resorts. If it's relaxation you're after, there's no better place to find it than on holiday in India. Rest your body and restore your soul as you recharge your energy at some of the world's most beautiful, exotic and luxurious resorts.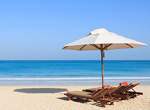 Beach Holidays
If you're looking for a sandy, sunny beach experience on your trip to India, you're spoiled for choice. With 7500km of gorgeous coastline,..
---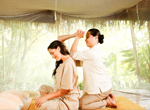 Spa
Trips to India can be an exhausting experience. With so much to see and do, it's easy to forget to take the time to relax and rejuvenate...